If you haven't updated your kitchen in a while, it's probably time for an upgrade. Medfield, MA residents have trusted Setterlund Plumbing and Heating for home remodeling projects since 1988. We are known for providing exceptional service and fantastic results on both kitchen and bathroom remodels.
Enhance Design, Boost Value, and Improve Functionality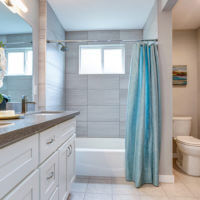 Remodeling your home isn't just about increasing aesthetic appeal. It's about boosting value and making your home more functional. You can get all three when you entrust your remodel to the experienced team at Setterlund. We'll renovate your space and create a new design that centers around your personal needs, style preferences, and budget.
Home Remodeling at Your Convenience
Kitchens and bathrooms are some of the most inconvenient rooms to remodel. You can't afford to be without these rooms for a long period of time. But you can count on Setterlund to finish the job promptly and efficiently, while still executing high-quality work.
We handle just about everything you need for a bathroom or kitchen remodel, including:
Installing instant hot water dispensers
Installing ice maker lines
Installing showers and enclosures
Installing tubs and full and half baths
Home Remodeling Experts You Can Trust
Every kind of remodel is stressful. But kitchen and bathroom remodels tend to be especially draining because they also involve plumbing. Luckily, Setterlund's expertise in plumbing means you can trust us for your bathroom or kitchen remodel. You can have peace of mind that the project will go smoothly, and you'll be satisfied with the results.
Your Kitchen or Bathroom Remodel is a Phone Call Away!
Still have questions about your home remodel project? Give Setterlund a call: (508) 541-7861! Remodels are always a pain, but with Setterlund, they're a little easier!